Miguel Alcalde Group
Members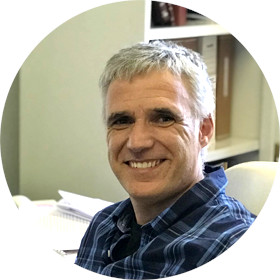 Prof. Miguel Alcalde
Principal investigator
malcalde@icp.csic.es
I am the boss who still believes that the dark side of the force is not stronger…only quicker, easier, more seductive…
Andrea Menés Rubio
Project Manager
andrea.menes@csic.es
I'm a biologist with a MSc in biotech. I'm in between lab-bench and paperwork. Out of the lab, I'm a huge fan of Marvel and Star Wars, also a make-up junkie, but what I like the most is spending time with my dog in the nature, (trying to) play drums and go to every concert I can.
Dr. David González Pérez
Senior Postdoc (PI - CAM Atracción de Talento)
david.gonzalez.perez@csic.es
I am a biochemist with a protein engineer heart, fascinated by directed evolution and robotic platforms. High throughput is my fuel and proteins my lifestyle. I am currently working on investigating peroxygenase catalysis and plastic-degrading enzymes. In my free time I love to drive somewhere, traveling, and spending good time with family and friends. 
Dr. Israel Sánchez Moreno
Senior Postdoc
israel.sanchez@csic.es
I have been working in the field of the biocatalysis for years, always in the limit between chemistry and biology (bringing balance). My research is focused on protein engineering of peroxidases. Outside of lab, I love listening to reaggeton music, watching the Tele5 TV shows, and lying miserably about my hobbies in my internet profiles.
Dr. Patricia Gutiérrez Alonso
Senior Postdoc
p.gutierrez.alonso@csic.es
I am a biologist with many years of experience in the field of biocatalysis in academia and industry. I like to spend my free time with my family and friends, travelling, eating, dancing, going to the beach and laughing as much as I can.
Dr. David Upp
Junior Postdoc (Juan de la Cierva Formación)
david.upp@csic.es
I am an American chemist trained in protein engineering. While my previous research was in the field of artificial metalloenzymes, I'm now working on giving natural metalloenzymes new life. My project is on the evolution of peroxidases for the synthesis of complex organic compounds. Outside of the lab I like to play volleyball, rock climb, or playing bass guitar… although that didn't fit in the suitcase on the way over to Spain.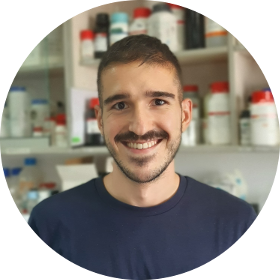 Alejandro Beltrán Nogal
PhD Student (FPU)
alejandro.beltran@csic.es
I studied Biochemistry and Industrial Biotechnology at the University Complutense of Madrid. My research interests come into characterizing and engineering short peroxygenases. I am obsessed with figure skating, cats, and I like dancing too.
Dianelis Toledo Monterrey
PhD Student (FPI)
d.monterrey@csic.es
I am a Cuban, Spain-based biologist who fell in love with Madrid 20 years ago. My research interest focuses on the discovery and engineering of new peroxygenases employed in biosynthesis. I am a bookworm, love my cats and, I have a passion for cooking
Mikel Dolz Ruiz
PhD Student
mikel.dolz@csic.es
I am a biotechnologist from Zaragoza who is taking his first steps in Directed evolution of enzymes. I settle for the little things in life like a good chat, a good beer or getting my PCRs right. Fun fact about evolution: It is said that Darwin's tortoise outlasted him more than 100 years. Will our enzymes do the same?
Merve Keser
PhD student
mkeser@eyown.com
I have been told that I am a world citizen; I am Turkish-born, raised in the US, and spent another chunk of my life in The Netherlands where I received my BSc and MSc in the field of biochemistry and biotechnology. I have moved to Spain for my Ph.D.studies involving directed evolution of galactose oxidase for further advancement of green chemistry and pharmaceutical industry. I'm a fairly good baker, a coffee snob, and have a love for gin (the good kind).
Paula Sanz
PhD student (CAM Atracción de Talento project)
paula.sanz.r@icp.csic.es

I'm Paula and I'm a biologist with a master's degree in industrial and environmental biotechnology. I'm very interested in enzyme directed evolution, genetic engineering and microbiology. In my spare time I like to read and play video games with 100% achievements. I also want to comment that Brandon Sanderson's Final Empire is self-conclusive, read it.
Yahan Wu
PhD student
.
I am a chemist who previously studied fluorine chemistry. During my graduate studies, I developed an interest in biocatalysis and I am currently conducting research on peroxygenases. In my spare time, I enjoy traveling and watching movies.
Julia Murciano
TFM student
juliamur@ucm.es
I'm a biologist finishing my Biotechnology MSc's thesis with the team of the lab, just beginning my journey learning about directed evolution. Whenever I have free time I am skating on my roller skates (or getting off the ground with them on). I also love reading and watching (reality) TV shows.
SOME FORMER LAB MEMBERS
Alejandra Alfuzzi (Scientist Analist Sopra Steria, Madrid, Spain)
Leire Barandarian Larrea (MSAT Scientist at Viralgen (VCT) Pais Vasco, Spain)
Susana Camarero Fernández (Científico Titular CIB-CSIC, Madrid, Spain)
Katarina Elbl-Müllhofer (GxP-Engineer, Testo industrial services GmbH, Germany)
Layla Fernandez (Group leader Protein Engineering at Evoxx Technologies, Colonia, Germany)
Carlos Garcia Burgos (Senior Regulatory Affairs Manager, Acino Pharma, AG, Zurich, Switzerland)
Iraj Ghazi (Scientist at Homology Medicines, Boston, USA)
Patricia Gomez de Santos (Scientist at EvoEnzyme, S.L., Madrid, Spain)
Bernardo Gomez Fernandez (CTO at EvoEnzyme, S.L., Madrid, Spain)
Manh Dat Hoang (Reseach Assistant, Technical University of Munich, Germany)
Elvin Igarta (Analytical Researcher and Development Scientist, HP, Puerto Rico)
Mehdi Imani (Professor at the Urmia University, Iran);
Gordana Kovacevic (Enzyme Discovery Scientist, Chr Hansen, Denmark)
Christoph Küng (PhD student University of Basel, Switzerland)
Natila Kwiatos (Postdoctoral Researcher at the International Centre for Research on Innovative Biobased materials (ICRI-BioM), Lodz University of Technology, Poland).
Sofia Lazaro (Biotecnologist at Exopol, Zaragoza, Spain)
Macarena Lopez Morales (Project Manager at Clinical Supply Operations, Bristol Myers Squibb, UK)
Juan Mangas (Senior Research Fellow ARAID, Zaragoza, Spain)
Diana Mate Mate (Project Manager, UAM, Madrid, Spain)
Ivan Mateljak (Scientist at EvoEnzyme, S.L., Madrid, Spain)
Daniel Méndez Sánchez (Process development scientist, PharmaMar, Madrid, Spain)
Seyed Mohammad (Professor Yarzd University, Iran)
Patricia Molina Espeja (Project Manager, ICP-CSIC, Madrid, Spain)
Carmen Paret Fernandez (Senior Clinical Research Associate at GSK, Madrid)
Mar Lopez Pelegrin (Lab Manager Institute of Science and Technology, Vienna, Austria)
David Palacios (Associated Professor, Universidad de Burgos)
Pascal Püllmann (Postdoc at the Centre for Synthetic Biology and Department of Bioengineering Imperial College London, UK)
Joaquín Ramírez Ramírez (Assistant Professor at the Monterrey Tecnology Center, Cuernavaca, México).
Valeria Risso (Associated Professor, Universidad de Granada, Spain)
Alina Roman (Lead Technologist at Lonza, London, UK)
Plínio Salmazo Vieira (Associated Researcher, Centro Nacional de Pesca, Energía y Materiales, CNPEM, Brasil).
Pamela Torres Salas (Senior Scientist Repsol, Madrid, Spain)
Morgane Valles (Research Scientist, Multus, UK)
Javier Viña Gonzalez (Science Manager at EvoEnzyme, S.L., Madrid, Spain)
Jia Wei Yang (Professor at Zunyi Medical College, China)
Miren Zumárraga Uribesalgo (Lead Scientist at Guserbiot, Pais Vasco, Spain)
Miguel Alcalde Laboratory
Institute of Catalysis, ICP-CSIC,
Cantoblanco, 28049, Madrid, Spain
Tel: +34 915854806
Fax: +34 915854760